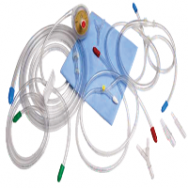 Class VI implant tested tubing, DEHP Free.
High quality customised product to meet individual requirements.
Non-kinking, transparent, clear tubing for better visibility and handling.
Heart Lung pack is available for adult, paediatric and infant.
Choice of Gas line filter, Pre by-pass filter, Arterial filter, SaO2 monitoring, Re-circulation line and Tubing organiser.
BL Standard and Individually customised packs available.
Ordering Information
B-HL-159 : Standard
B-HL-74 : With Arterial Filter